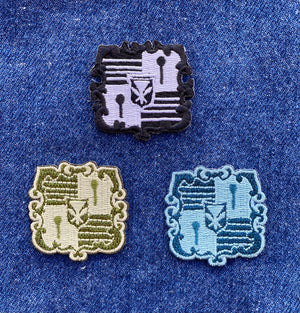 Iron-On Patch | Ka Sila Hawai'i - Crest - ALL SALES FINAL
Sale price Price $7.50 Regular price
Ka Sila Hawai'i Iron-On Patch 
An accessory that can be placed on your t-shirt, jacket, bag + more!
Measures - 1.5 in x 1.5 in
Ka Sila Hawai'i
 He hō'ailona nui ka sila Hawai'i no ko kākou aupuni aloha. 'Oiai 'o Ha'alilio ma ka huaka'i 'imi kū'oko'a, hele akula 'o ia i ke College of Arms ma Ladana, a noi akula i kēia sila. Wahi a kekahi mo'olelo, na Ha'alilio ia i haku, kuhi na'e mākou ua kama'ilio mua 'ia paha me kona haku, me Kauikeaouli, ke ali'i nāna i ho'ouna iā ia a me nā 'elele 'ē a'e, 'o William Richards lāua 'o George Simpson i ua huaka'i ko'iko'i lā i 'Amelika a me 'Eulopa. Ua kō ka pahuhopu o lākou i ka lā 28 o Nowemapa, 1843, ka Lā Kū'oko'a o Ke Aupuni Hawai'i. He mana'o ko kēlā me kēia māhele o ka sila. 'O Kamanawa ke ali'i ma ka hema e pa'a ana ka ihe ma kona lima. Aia kona māhoe ma ka 'ākau, 'o Kame'eiamoku ho'i, ka mea iā ia ke kāhili. He mau mākua lāua no Kamehameha i a'oa'o akula iā ia ma kona na'i aupuni 'ana. 'O nā kaha 'ewalu o ka māhele o waena, he hō'ailona no nā mokupuni 'ewalu e noho 'ia nei e kānaka. 'O ka pūlo'ulo'u, ka puela, a me ke ālia, he mau hō'ailona ali'i kēia mau mea a pau. Aia i lalo ka 'ōlelo kaulana a Kauikeaouli i ka wā o kona kali 'ana e hō'oia 'ia mai ke kū'oko'a o ke aupuni Hawai'i, 'o ia ho'i "Ua mau ke ea o ka 'āina i ka pono." Ua hō'oia 'ia maila nō ke kū'oko'a a ua sila 'ia ihola ke aloha 'āina o kākou.

Ka Sila Hawai'i - The Hawaiian Coat of Arms
The coat of arms, a.k.a. the royal crest, is one of our treasured national symbols. Its story is tied to Hawaiian Kingdom independence, which was achieved by Timoteo Ha'alilio, William Richards and George Simpson in London on November 28, 1843, now known as Lā Kū'oko'a (Independence Day). The group had been sent by King Kauikeaouli, Kamehameha III, to America and Europe to seek this recognition, a journey that took more than two years. While in London in 1842, Ha'alilio went to The College of Arms and commissioned this coat of arms. It bears the images of Kamanawa and Kame'eiamoku (twin chiefs who were uncles and advisors of Kamehameha I) in feather capes, holding a spear and a feather standard, respectively. The eight stripes represent the eight inhabited islands. The pūlo'ulo'u (opposite the stripes), puela (an old type of flag) and ālia (two crossed sticks made of kauila or māmane wood) are all chiefly symbols. At the bottom of the original (not this version) is the famous saying: Ua mau ke ea o ka 'āina i ka pono - The sovereignty of the land endures through righteousness. 
Ua sila 'ia ke aloha 'āina
 - 
Love of country is permanently fixed in us
.