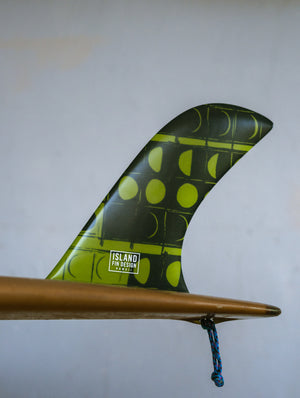 Fin | Leeward 10" | Hinahānaiakamalama - navy - ALL SALES FINAL
Sale price Price $98.00 Regular price
Island Fin Designs + Kealopiko 
Made in Hawaii nei with Kealopiko ALL ALOHA fabrics printed on Molokai, and then shaped & created on the North Shore, Oahu with Island Fin Designs.
Fin Specs: Leeward
A choice template for nose riding, this pivot fin allows for all kinds of fancy footwork. It's full and steep outline simplifies your ride and promotes more time on the nose. 
*Since each fin is cut from a different section of the handprinted fabric, no two fins are alike.
- 10.0"
- Matte finish
- One screw + plate included
- Fins are handmade since 1979, North Shore, Oahu
- Kealopiko All Aloha fabric is handmade on Molokai