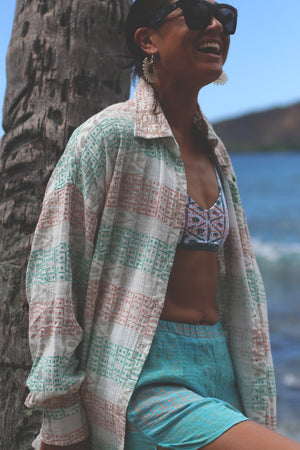 Haumea V. - Ke Kapa o Ke Ao | Buttondown Cover-Up - white
Sale price Price $125.00 Regular price
100% Organic Textured Cotton | Longsleeve | Buttondown | Oversized | Designed in Hawai'i | Made in the USA
| | | | | |
| --- | --- | --- | --- | --- |
| Haumea V. - Ke Kapa o Ke Ao | Umauma | Kīkala | Lōʻihi | 'Uala |
| Button down Coverup | Chest | Hips | Length | Bicep |
| S | 52" | 52" | 32 | 16" |
| L | 56" | 56" | 34 | 18" |
| 2XL | 60" | 60" | 36 | 20" |
Sewn from an all over print design, each piece is unique in its art placement, which will vary from what you see in the photos. 

Haumea V. - Ke Kapa o Ke Ao
ʻOiai no loko mai ʻo ia o Kāhulikāhelanuiākea, ʻo Haumea nō kahi lehua o ke kāhuli a me ka loli. I ka māhele ʻia ʻana o nā kai o ka honua e ka Pūkuʻiakua, ua ʻōlelo ʻia ʻo "ke kai o Wauke, na Haumea ia," a no laila, mai kinohi loa mai nō kona kuku ʻana i ka wauke i kapa, a kaʻa ka honua i ke kapa āna, wahi a nā kūpuna. ʻO ia kapa a ʻupena lani nui nō paha kahi i mākia paʻa ʻia ai nā hōkū i hoʻohānau ʻia iā Haumeakuohanuiākea, iā Hinakaʻalelewa, a me ka lehulehu o nā akua, ma ke kauhoa lā o Anomakaliʻikapō, ka mea nāna i hoʻokuleana iā lākou "I mau ahi lākou no laila, e hoʻohānau a e hoʻomālamalama i ka honua, i lama lākou no ia hanauna aku, ia hanauna aku." Na lākou nō hoʻi i hoʻohānau a "māhele" i nā mea ola a pau ma ka honua, pēlā pū me kānaka, a ua pili paha kēia i kahi lālani mele no Haumea, he wahine "No ka ʻaunaki kukū ahi kanaka." He nani ia na ua mau "kūpuna Hōkū Aliʻi o luna" ke ahi a me ka wela, na lākou nō e hoʻolālā i nā pō huʻihuʻi a me nā pō pumehana ma ka malama, a e māhele i ka hoʻoilo a me ka makaliʻi. No laila, ua nui ka hana a Haumea lāua ʻo Hina i ke kaupalena ʻana i ke au o ka manawa o ka honua, a ma kona mau papa like ʻole e hoʻīnana mai ai ko ke kāne a hānau ʻia aku nā mea like ʻole, pū nō me nā manaʻo nui o ke kanaka. Auē ka ʻihiʻihi me ka mahalo i ua mau kūpuna lani nei o kākou, i ke ahi a me ka wai, nā mea koʻikoʻi e ola ai kākou, nā pulapula. Na Z. Kalai kekahi o ka ʻike ma luna aʻe nei
("Moʻolelo Hawaiʻi Kumuhonua", Ka Nupepa Kuokoa, 17 July 1896).
Haumea V. - The Universal Fabric
The original lehua (expert) of transformation, Haumea beats out connected fibers to form a network in which life can exist, a great web in which stars can be suspended, the fabric of creation upon which the world turns. In one origin story, Haumeakuohanuiākea, Hinakaʻalelewa, and many other akua were placed in the deep heavens as sources of eternal fire and heat for the earth. They were tasked with dividing time into seasons and choosing the warm and cold nights. Then they each took their heat and birthed the living things on earth, including humans, followed by the stars in the heavens, which they fixed in place with the sun and the moon. Haumea and Hina playing a part in setting up space, establishing seasonal cycles, and connecting celestial bodies to terrestrial ones is perhaps their oldest and most enduring contribution to the web of life. It is within their boundaries, and in combination with the male creative spark, that things gestate and emerge, whether stars, life forms, or ideas. In the same way Kūmau and Hānaiakamalama sit at the north and south ends of the star space, perhaps Haumea and Hina contain much of the creative energy that flows around and through us. Their manifestations of fire and water are foundational elements in the cycle of creation and destruction of which we, as their descendants, are all an integral part.