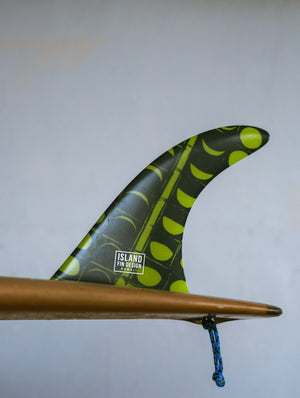 Fin | Islander 9" | Hinahānaiakamalama - navy - ALL SALES FINAL
Sale price Price $96.00 Regular price
Island Fin Designs + Kealopiko 
Made in Hawaii nei with Kealopiko ALL ALOHA fabrics printed on Molokai, and then shaped & created on the North Shore, Oahu with Island Fin Designs.
Fin Specs: Islander
A popular single fin choice, The Islander is favored for it's all around performance capabilities. It keeps your speed and responds on the fly. With a slight update to this template from our last collection, we've tapered the tip just slightly for a faster release in transitions.
*Since each fin is cut from a different section of the handprinted fabric, no two fins are alike.
- 9.0"
- One screw + plate included
- Handmade since 1979, North Shore, Oahu
- Kealopiko ALL Aloha Fabric